We currently have no Bates Astral 810 boats for sale

Bates Astral 810 Model Information and Photo Gallery
---
Bates Astral 810 Photo Gallery Archives
Archived Boats (Boats below not for sale)
Bates Astral 810 Further Reading
The Bates Astral 810 is a spacious cruiser, suitable for families with children. It offers accommodation in 2 separate cabins.These craft were available as an aft cabin version with 2 small quarter berths either side of the cockpit. Some of these craft were used in hire fleets on the Thames.
Useful Links
Bates Astral 810 Documents and Original Brochures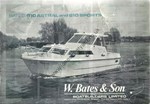 Bates Astral
---

We are passionate about building a comprehensive archive of boating information. Can you help us with any missing information or brochures?
Please email any historical information you may know or brochures to info@jonesboatyard.co.uk