---
Sold - Jul 17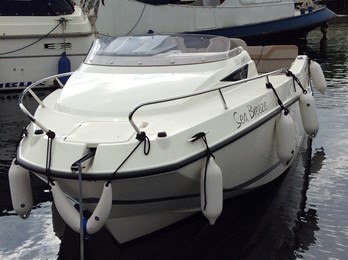 Quicksilver 505 Activ Cabin, "Sea Breeze"
Boat Length:
16ft 4in (4.98m)
Berths:
2
Year:
Believed September 2016
Fuel Type:
Petrol
The Qucksilver 505 Active  Cabin offers a good blend of space between cabin and cockpit
£12,500.00

Quicksilver 505 Activ Cabin Model Information and Photo Gallery
---
Quicksilver 505 Activ Cabin Photo Gallery Archives
Archived Boats (Boats below not for sale)
Quicksilver 505 Activ Cabin Further Reading
The Quicksilver 505 Activ Cabin model has a generous cockpit with seating for 4 people. The cuddy cabin has v berthing to suit 2 people. These craft are at home inland or in sheltered coatal waters depending on the size of motor fitted.
Useful Links
---

We are passionate about building a comprehensive archive of boating information. Can you help us with any missing information or brochures?
Please email any historical information you may know or brochures to info@jonesboatyard.co.uk – if we use your brochure on the website we will send you a £10 voucher to use in our chandlery!