---
Sold - Sep 20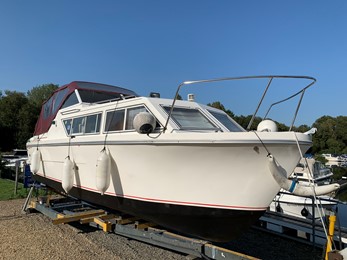 Viking 26 Wide Beam, "Robbie B"
Boat Length:
26ft (7.92m)
Berths:
6
Year:
Believed 2003
Fuel Type:
Petrol
A very practical and well presented river boat with spacious accomodation and an economical outboard motor.
£25,000.00

Viking 26 Wide Beam Model Information and Photo Gallery
---
Viking 26 Wide Beam Photo Gallery Archives
Archived Boats (Boats below not for sale)
Viking 26 Wide Beam Further Reading
This craft uses the hull of the old Seamaster 813 which in semi displacement hull on a wide beam design. This outboard powered vessel has space under the cockpit to allow a double quarter berth to be fitted.
Useful Links
Purchase Viking Boats Boat Test Reports
Viking 26 Wide Beam Documents and Original Brochures
---

We are passionate about building a comprehensive archive of boating information. Can you help us with any missing information or brochures?
Please email any historical information you may know or brochures to info@jonesboatyard.co.uk