---
Sale Pending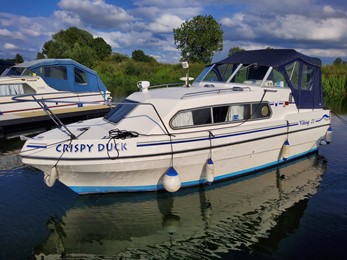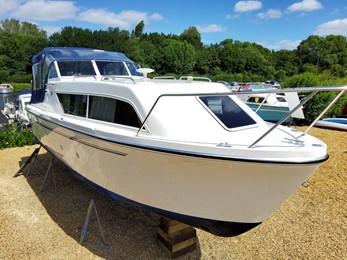 Viking 275, "275"
Boat Length:
27ft (8.23m)
Berths:
4 plus 2
Year:
2018
Fuel Type:
Petrol
This well equipped viking 275 is a very popular family river cruiser. This 2018 boat presents as new and has a full engine service by Jones Boatyard September 2019.
£52,000.00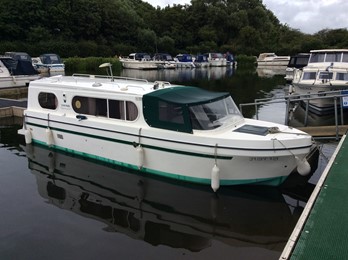 Viking Slipstream 27, "Just Us"
Boat Length:
27ft 1 in (8.40m)
Berths:
6
Year:
Believed 1994
Fuel Type:
Diesel
The Viking 27 Slipstream is a rare narrow beam forward drive cruiser from Viking boats. This craft has an economical diesel engine
£13,950.00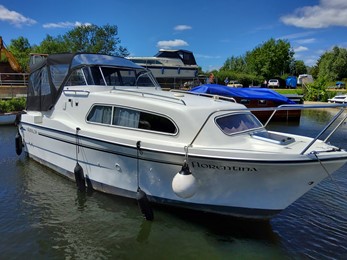 Viking 24 Widebeam, "Florentina"
Boat Length:
24ft (7.32m)
Berths:
4 plus 2
Year:
2018
Fuel Type:
Petrol
The Viking 24 is a very popular river cruiser which is stylish to look at and offers generous family accommodation. This a one owner craft.
£42,450.00
Sale Pending
Viking 28, "Born Free"
Boat Length:
28ft (8.53m)
Berths:
6
Year:
2013
Fuel Type:
Petrol
The Viking 28 High Line is a fine river, canal cruiser which will cruise the middle level. This example is exceptionally well presented and good saving against new.
£28,500.00

Further Information on Viking Boat Models
Viking Boat Information
Viking mouldings first started in 1970 and moved to their existing site in Great Dunmow following their incorporation of Seamaster Boats in the early 80s. The company specialises in the manufature of narrow beam craft as well as some re launched versions of the classic Seamaster range. Several of the Viking craft and Seamaster badges craft still use the mouldings from the original Seamaster range. Viking boats are famed for good value no nonsense inland craft and their narrow boats have been particularly popular for canal work.
Viking Boat Models
Useful Links
Purchase Viking Boats Boat Test Reports
Viking Documents and Original Brochures
---