---
Sale Pending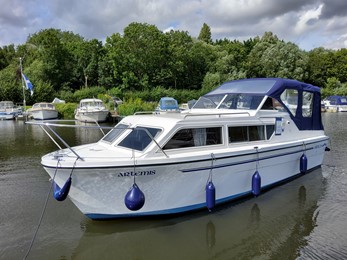 Viking 26 Wide Beam, "Artemis"
Boat Length:
26ft (7.92m)
Berths:
6
Year:
April 2021
Fuel Type:
Petrol
This April 2021 built Viking 26 is an exceptionally well presented 1 owner from new vessel. Artamis is everything you would expect from a 4 month old boat and provides an extensive specification with many optional extras from factory.
£59,500.00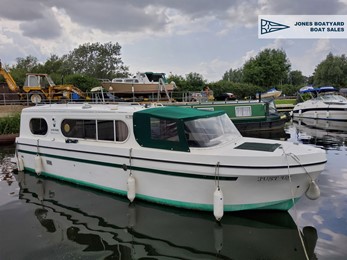 Viking Slipstream 27, "Just Us"
Boat Length:
27ft 1 in (8.40m)
Berths:
6
Year:
Believed 1994
Fuel Type:
Diesel
The Viking 27 Slipstream is a rare and unique narrow beam, forward drive cruiser from Viking Boats. "Just Us" is fitted with a economical diesel engine. Her narrow beam allows cruising on both river and canal networks.
£15,000.00
Sold - Aug 21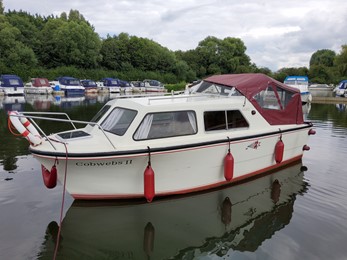 Viking 20, "Cobwebs II"
Boat Length:
20ft (6.10m)
Berths:
4
Year:
Believed 1985
Fuel Type:
Petrol
Cobwebs II is a compact, yet ideal first river cruiser. She benefits from a new Honda 15hp outboard (fitted 2019) and a recent red vinyl cockpit canopy (fitted 2018).
£13,950.00
Sold - Sep 21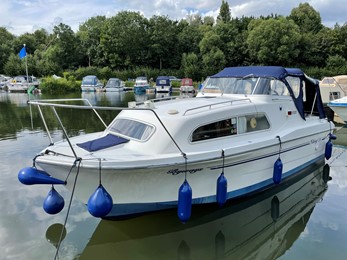 Viking 24 Wide Beam, "Byways"
Boat Length:
24ft (7.32m)
Berths:
4 plus 2
Year:
Believed 2007
Fuel Type:
Petrol
Byways is a lovely example of this very popular river cruiser made by Viking Mouldings. Being the Hi-Line version, she is very well equipped and benefits from a larger 40hp Honda outboard motor, fitted new in 2013. With a spacious and sociable cockpit and generous accomodation, she makes for an ideal family cruiser.
£29,950.00
Sold - Jun 21
Viking 20 custom built, "Sea Quin"
Boat Length:
20ft (6.10m)
Berths:
2
Year:
Launched 2008
Fuel Type:
Petrol
This custom built Viking 20 was fitted out by her first boatbuilder owner. The layout and quality of build is excellent on this well presented boat.

Further Information on Viking Boat Models
Viking Boat Information
Viking mouldings first started in 1970 and moved to their existing site in Great Dunmow following their incorporation of Seamaster Boats in the early 80s. The company specialises in the manufature of narrow beam craft as well as some re launched versions of the classic Seamaster range. Several of the Viking craft and Seamaster badges craft still use the mouldings from the original Seamaster range. Viking boats are famed for good value no nonsense inland craft and their narrow boats have been particularly popular for canal work.
Viking Boat Models
Useful Links
Purchase Viking Boats Boat Test Reports
Viking Documents and Original Brochures
---