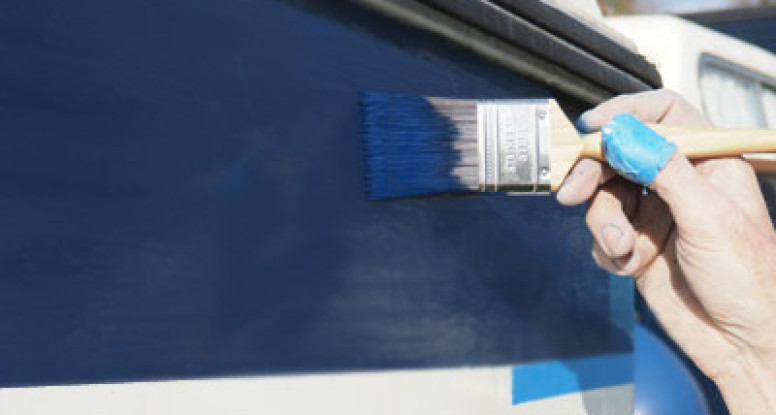 Boot topping, Topsides & Boat Paint
Boot topping
The purpose of a boot top is to protect the area along the waterline of a boat where the antifoul meets the dry part of the hull, and as a bonus a well-executed boot top can add serious style points to your boat! This area becomes both wet and dry and is exposed to increased UV creating a similar risk of marine growth that the hull under the waterline faces. For this reason many choose to paint their boot top with a harder antifoul of a contrasting colour to that on the bottom of the hull whilst others use a marine gloss to create a stripe with a nice gleam.

For a shimmering glossy boot top International Toplac is a popular choice being a good quality gloss which comes in a variety of vibrant colours whilst Trilux 33, Hempel Hard Racing Boottop and Teamac Boottop are all ideal tough antifouling paints if you choose that option.
Gloss on topsides
Topsides are the part of the hull above the waterline, often they will be bare gelcoat finished in white, however it is not uncommon to paint this area with a good quality yacht enamel. Some boats have the whole of the hull painted whilst others look good with stripes, in a colour that matches the canopy for example, under the rubbing strake. Like all paint jobs preparation is key to achieving a good finish and the hard work begins long before you pick up a brush or roller.
WASHING DOWN AND KEYING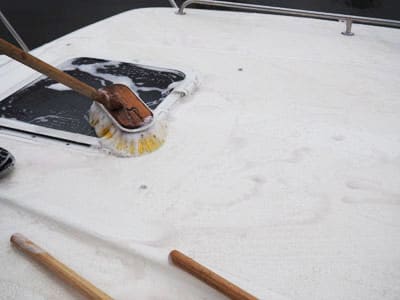 The only place to start when preparing GRP for paint is a good wash. As well as removing dirt and grime it is also essential for wax coatings to be removed in order for paint to adhere to the surface, to do this use a product such as International's 'Super Cleaner' which is specifically designed to remove wax and polish from gelcoat.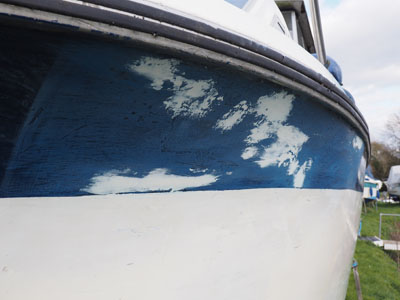 This is also the opportunity to identify and repair any scratches or cracks which will need sanding down, filling with an appropriate paste (i.e. Plastic Padding's 'Marine Filler') and sanding to finish. Keep the sandpaper out as once you are satisfied the GRP is free from contaminants and happy with any repair work it's time to key the area. The grit will vary on the state of your gelcoat but somewhere between 80 and 150 grit is typical for keying topsides.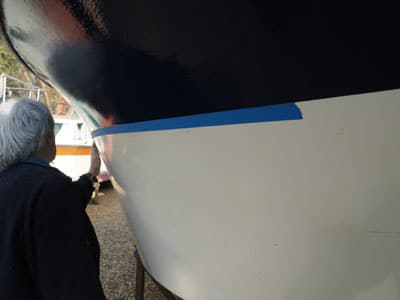 Once this is done I'm afraid it's time to wash and wipe the area down again to remove all the dust. Finally, mask around the area to be painted, remembering that the cheaper tapes tend be very difficult to remove if left too long; 3M do a good masking tape which is blue in colour and doesn't disintegrate so rapidly.
UNDERCOATS
Using an undercoat will leave you with a more vibrant colour and really needs to be used if you're painting on top of bare GRP or changing the colour drastically. You must make sure to use the appropriate undercoat for the gloss you plan on using, for Toplac use International Pr-Kote or Teamac Marine Undercoat for the Teamac Gloss. Marine undercoat is best applied using the 'roll and tip' method; using foam rollers to apply the paint in vertical strokes following behind with a brush to smooth the paint and remove any drips etc. If this is a new technique for you then putting on an undercoat can be good practice as well as improving the finished result. The number of coats required will depend on the vibrancy of the paint underneath as well as the condition of the surface.
TOPCOAT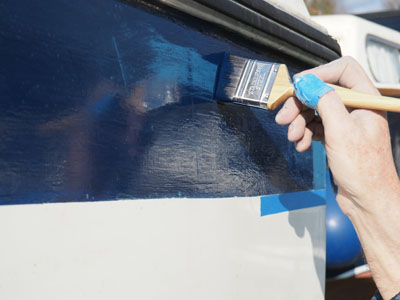 First make sure the area has been given a wipe down and is free of any dust from sanding the undercoat. Application is exactly the same as detailed with the undercoats above; adopting the 'roll and tip' method. It's a good idea to have a tin of the appropriate thinners to hand (No.1 for 'Toplac') in order to wipe up and spillages or drips on the hull beneath. Two coats are usually sufficient, remembering to sand with a fine grade between coats, remove the masking tape once the paint is nearly dry and you should be left with a glossy finish.
DECK PAINTS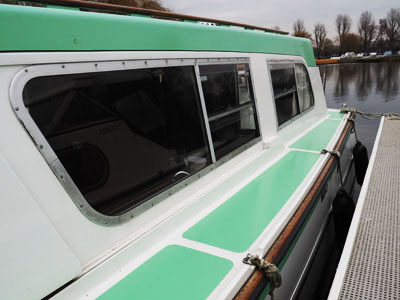 You will want to use a non-slip deck paint as using a shiny, slippery gloss runs the risk of a depletion in crew numbers whilst cruising! International have a specific deck paint, 'Interdeck', which incorporates a fine grit to provide a non-slip surface and dries with a low sheen. International also provide a non-slip additive which can be added directly to, or sprinkled onto a wet coat of 'Toplac', which offers a far more generous pallet.
If you are worried that 'Toplac' will be too glossy on deck International also provide a 'Matting Additive' which can again be added to 'Toplac' in different proportions in order to achieve different levels of gloss or a matt effect (the product guidance recommends using a ratio of 25:75 (paint:additive) in order to achieve a matt finish). Application is very similar to the details provided for gloss above; make sure the area is as clean as possible, undercoat is only really necessary if going straight onto gelcoat or with a drastic change in colour, remember to key the area well before application, the paint can be applied with either brush or roller and there is no need for the 'roll and tip' technique as the finish will naturally be rough.
Alternatively, if you don't want to paint the decks, there are self-adhesive anti-slip pads available on the market. The choice of colour is fairly limited, including whites, greys, browns and blues but these work aesthetically well on some boats.