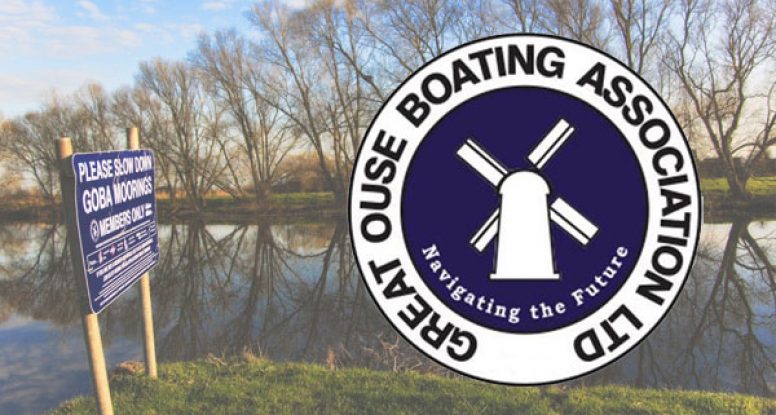 Great Ouse Boating Association

GOBA – The Great Ouse Boating Association
The Great Ouse Boating Association (GOBA) is a boating association founded in 1958 and covers the River Great Ouse, River Cam, Lark, Little Ouse, River Wissey and The Old West.
The association has over 3,000 members. It is associated with the Boat Watch Scheme who, along with the Cambridge Constabulary and the Environment Agency, represents the boat owners and marinas against theft and vandalism.
"Our endeavour is to promote harmony between the various users of the river so that all may continue to share its peace and beauty. This may involve providing a representative on a local, regional or national committee such as the Parliamentary Waterways Group, pressing for retention of navigation, renting a mooring from an angling club or landowner, receiving and forwarding adequate notice of regattas, advising on the siting of riverside structures and vital facilities such as locks, water points and rubbish disposal."
GOBA is an association through which boaters can voice their needs and concerns and will put forward ideas to the statutory bodies who control the waterways.
They provide the use of over 23 GOBA 48 hour moorings free of charge. They also publish a colour magazine with up to date information on boating and news about the River systems they represent. Regular bulletins are also posted along the river at locks.
The Association is registered under the Industrial and Provident Societies Acts in the United Kingdom and is run by a committee of boater owners on the river network who volunteers their time for the benefit of the rivers they represent and their members.
Members of GOBA have access to their moorings along the river network and also have a stronger voice to help maintain and extend the navigation on the Ouse system.
Membership costs just £23.00 a year.