---
Sold - Jun 18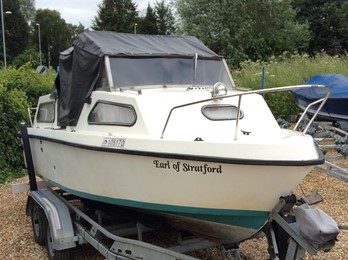 Europa 4 centre cockpit, "Earl of Stratford"
Boat Length:
18ft (5.49m)
Berths:
4
Year:
Believed early 80's
Fuel Type:
Petrol
This practical centre cockpit cruiser has a modern outboard and substantial trailer and represents a great refurbishment opportunity for a practical boat owner.

Further Information on Beaves Marine Boat Models
Beaves Marine Boat Information
Beaves Marine were based in Tollesbury Essex. The company was in existence from the early 70s until the late 80s. The designs were penned by Tony Beaves who started with the Europa 4 and 2 plus 2 models then the 24 and 22 wide beam with aft cabin. The manufacturers mainly supplied moulds for companies and individuals to fit out.The Dolphin 22 aft cabin used the Beaves marine mouldings.
Beaves Marine Boat Models
---

We are passionate about building a comprehensive archive of boating information. Can you help us with any missing information or brochures?
Please email any historical information you may know or brochures to info@jonesboatyard.co.uk