---
Sale Pending
Shetland 4 plus 2, "Bumble"
Boat Length:
21ft (6.40m)
Berths:
4 plus 2
Year:
August 2013
Fuel Type:
Petrol
The Shetland 4+2 is a compact cruiser which has generous accommodation for its size
£19,950.00
Sold - Dec 19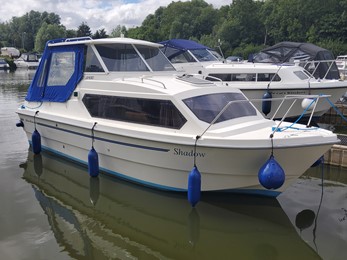 Sold - Nov 19
Shetland 27, "Finale"
Boat Length:
27ft (8.23m)
Berths:
5
Year:
Believed commissioned March 2012
Fuel Type:
Diesel
The shetland 27 is a very sought after river cruiser. This boat is very well equipped, the interior has leather upholstery to the saloon.
£45,000.00
Sold - Sep 19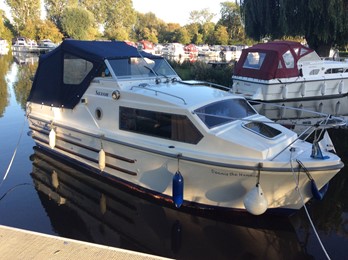 Shetland Saxon, "Dennis The Menace"
Boat Length:
21ft (6.4m)
Berths:
4 + 2
Year:
Believed 1992
Fuel Type:
Petrol
The Shetland Saxon is a practical river canal cruiser, which is easy to maintain and use.

Further Information on Shetland Boat Models
Shetland Boat Information
Shetland boats have had several owners since it was originally founded in the early 60s. Jack Stokes who owned a boating business called 'Three-Stokes Marine' in Mile End Road, London, joined forces with John Hardy to produce a small outboard cruiser. Jack, at that time had a fibre glass factory in Burnham on Crouch. Along with a yacht designer, the Shetland 69 was designed and 50 of these were built in the first year. This design evolved into the 535 model and an export market was developed, shipping the craft on double decker articulated trailers. By 1978, production had risen to 60 boats a week!
Shetland Boat Additional Information
In 1978, the company won a Queen's award for export. The company was sold to a large group called Wodham Stringer and Jack Stokes severed his association with Shetland.Today shetland is owned by the Reinman family and they build a range of craft from 17ft to 29ft. The craft represent very good value for money and are a popular inland boat. There are still many shetlands afloat.
Shetland Boat Models
Useful Links
Purchase Shetland Saker, 535 & Cadet Boat Test Reports
Shetland Documents and Original Brochures
---