---
Sale Pending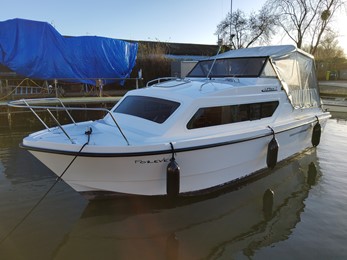 Shetland 4 plus 2, "Forever"
Boat Length:
21ft (6.40m)
Berths:
4 plus 2
Year:
February 2018
Fuel Type:
Petrol
'Forever' is a one owner 2018 Shetland 4 plus 2 and has had little use since new. She is a well appointed craft with a smart and modern oak interior and personalised synthetic teak cockpit flooring. This boat presents herself like new and is in immaculate condition. She is powered by an economical 20hp Mercury outboard motor. New Anchor Marine fenders, new moorings lines & fresh antifouling by Jones Boatyard 2020/2021.
£26,000.00
Sold - Mar 21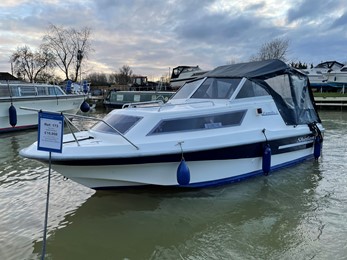 Shetland Family 4, "Unnamed"
Boat Length:
17ft 8in (5.38m)
Berths:
2
Year:
Believed 2006
Fuel Type:
Petrol
This nicely presented Shetland Family 4 is a compact river cruiser with a large, sociable cockpit and overnight accomodation if required. Recently compounded and polished, antifouled and engine serviced by Jones Boatyard December 2020.
£10,950.00
Sold - Mar 21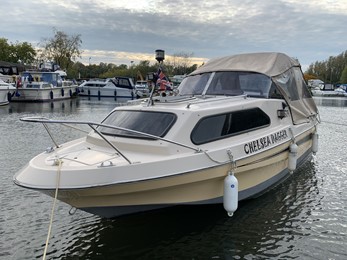 Shetland Family 4, "Chelsea Dagger"
Boat Length:
17ft 8in (5.38m)
Berths:
4
Year:
Believed 1983
Fuel Type:
Petrol
The Shetland Family 4 has proven to be a very popular river boat with a sociable cockpit and overnight accommodation. This boat was modernised by a previous owner in 2016.
£6,500.00
Sold - Sep 20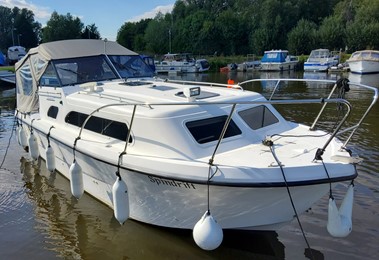 Shetland 27 outboard, "Spindrift"
Boat Length:
27ft (8.23m)
Berths:
6
Year:
March 2017
Fuel Type:
Petrol
This is an exceptionally well equiped and presented Shetland 27 in near perfect condition.

Further Information on Shetland Boat Models
Shetland Boat Information
Shetland boats have had several owners since it was originally founded in the early 60s. Jack Stokes who owned a boating business called 'Three-Stokes Marine' in Mile End Road, London, joined forces with John Hardy to produce a small outboard cruiser. Jack, at that time had a fibre glass factory in Burnham on Crouch. Along with a yacht designer, the Shetland 69 was designed and 50 of these were built in the first year. This design evolved into the 535 model and an export market was developed, shipping the craft on double decker articulated trailers. By 1978, production had risen to 60 boats a week!
Shetland Boat Additional Information
In 1978, the company won a Queen's award for export. The company was sold to a large group called Wodham Stringer and Jack Stokes severed his association with Shetland.Today shetland is owned by the Reinman family and they build a range of craft from 17ft to 29ft. The craft represent very good value for money and are a popular inland boat. There are still many shetlands afloat.
Shetland Boat Models
Useful Links
Purchase Shetland Saker, 535 & Cadet Boat Test Reports
Shetland Documents and Original Brochures
---