We currently have no Birchwood 29 boats for sale

Birchwood 29 Model Information and Photo Gallery
---
Birchwood 29 Photo Gallery Archives
Archived Boats (Boats below not for sale)
Birchwood 29 Further Reading
This spacious cruiser which features an aft cockpit and enclosed wheelhouse uses the whole boat as cabin space. This design allows 4 berths in 2 cabins with sedan doors in the wheelhouse area. The medium V hull and three quarter length keel allows for easy slow speed handling. The engine installation varies between twin and single petrol and diesel engines, some shaft driven, and others outdriven. Birchwood boats also produced an aft cabin design to.
Between the years 1976 and 1983 over 200 were built. The Birchwood 29 was also built with an aft cabin.
Useful Links
Purchase Birchwood 25 Boat Test Report
Birchwood 29 Documents and Original Brochures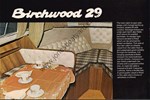 Birchwood 29
---

We are passionate about building a comprehensive archive of boating information. Can you help us with any missing information or brochures?
Please email any historical information you may know or brochures to info@jonesboatyard.co.uk