---
Sold - Oct 17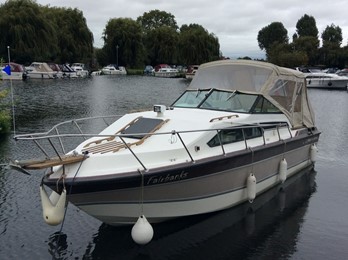 Chaparral 27 signature, "Fairbanks"
Boat Length:
26ft 5in (8.05m)
Berths:
4
Year:
Believed 1989
Fuel Type:
Petrol
The Chaparral 27 signature is a stylish American sports cruiser with a generous social cockpit. The craft was re engined with a smaller 2006 Mercruiser 3 litre in 2007

Further Information on Chaparral Boat Models
Chaparral Boat Information
Chaparral Marine Products Corperation was founded in 1965 in Fort Laudedale Forida. In 1976 the company moved to Nashville in Georgia. The company changed hands several times ending up as PRC energy services in 2001. The craft are now manufactured in Valdosta in Georgia.
Chaparral Boat Models
---

We are passionate about building a comprehensive archive of boating information. Can you help us with any missing information or brochures?
Please email any historical information you may know or brochures to info@jonesboatyard.co.uk – if we use your brochure on the website we will send you a £10 voucher to use in our chandlery!