---
Sold - Sep 20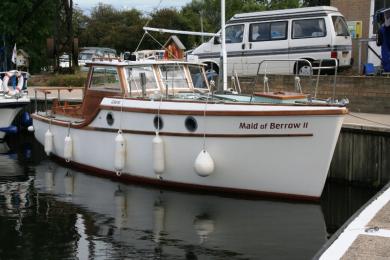 Colvic 26, "Maid of Berrow 11"
Boat Length:
26ft 6in (8.08m)
Berths:
4
Year:
Believed 1973
Fuel Type:
Diesel
The Colvic Northener is a stout classic boat which offers a good balance of varnished timber against easy to maintain GRP

Colvic 26 Model Information and Photo Gallery
---
Colvic 26 Photo Gallery Archives
Archived Boats (Boats below not for sale)
Colvic 26 Further Reading
This round bilge full diplacement hull with long keel line is complemented by a high foredeck with dropping sheer on the deck line. These mouldings were often home fitted and the style and quality of build varies enormously.
Useful Links
Purchase Colvic Countress 28 Boat Test Report
---

We are passionate about building a comprehensive archive of boating information. Can you help us with any missing information or brochures?
Please email any historical information you may know or brochures to info@jonesboatyard.co.uk