---
Sold - Jun 17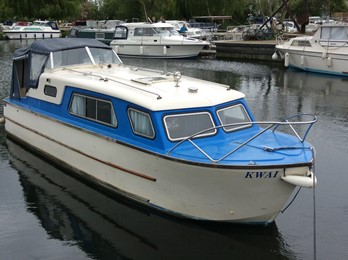 Nauticus 27, "Kwai"
Boat Length:
27ft (8.23m)
Berths:
4
Year:
Believed early 70's
Fuel Type:
Petrol
This Nauticus has been refitted internally over the winter by her owner to original standards and presents well
£8,750.00

Further Information on Nauticus Boat Models
Nauticus Boat Information
Nauticus boats were built in 1970 by Malcolm Thomas plastics. Their main competitor at the time was Buckingham boats. Nauticus were constructed of GRP with ply panelling and wood trim.They have a good reputation of building a quality narrow beam motor boat with a strong following.
Nauticus Boat Models
Useful Links
Purchase Nauticus 27 Boat Test Report
---

We are passionate about building a comprehensive archive of boating information. Can you help us with any missing information or brochures?
Please email any historical information you may know or brochures to info@jonesboatyard.co.uk – if we use your brochure on the website we will send you a £10 voucher to use in our chandlery!