---
Sold - Aug 17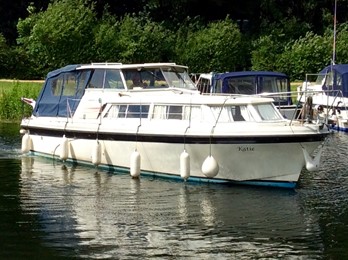 Princess 32, "Katie"
Boat Length:
31ft 4in (9.55m)
Berths:
5
Year:
Believed 1973
Fuel Type:
Diesel
This Princess 32 has been refitted over the years and has a tidy interior together with upgraded appliances. A bow thruster has also been fitted
£18,950.00
Sold - Dec 16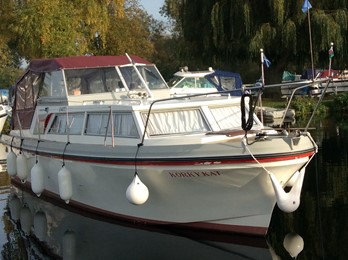 Princess 32, "Korky Kat"
Boat Length:
32ft 4in (9.86m)
Berths:
5
Year:
1970s
Fuel Type:
Diesel
This full canopy single diesel engined Princess 32 is a tidy, well presented example.The reduced air draft enables the boat to navigate under lower bridges.
£15,950.00
Sold - Nov 16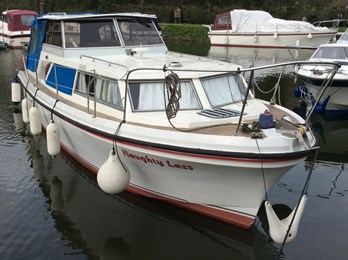 Princess 32, "Naughty Lass"
Boat Length:
31ft 4in (9.55m)
Berths:
5
Year:
Believed early 70,s
Fuel Type:
Petrol
This Princess 32 has been  refitted by her current owner. The boat has had replacement fuel and water tanks plus refitted galley and appliances.The interior wood work has been modified. The hard top has been lowered to go under Offord bridge
£12,950.00

Princess 32 Model Information and Photo Gallery
---
Princess 32 Photo Gallery Archives
Archived Boats (Boats below not for sale)
Princess 32 Further Reading
This craft was a development of the Project 31 (which in turn is a stretched version of the Elysian 27) with a new, larger superstructure and a modified transom. This model was launched in 1969 and over 2000 were built from the until 1980. The layout is also similar to the Project 31 in having a large cockpit and open-backed wheelhouse and an interior that is basically open plan but with a folding partition to isolate the two V berths forward. Another berth can be found opposite the convertible dinette. The semi-displacement speed of the boat is up to 20 plus knots. The boats interior allowed 5 berths. There were many engine options, all outdriven from single petrol to twin diesel.
Standing headroom in cabin is 6ft 3ins. Length of V berth 6ft.
Useful Links
Purchase Princess 32 & 32 Riviera Boat Test Reports
Princess 32 Documents and Original Brochures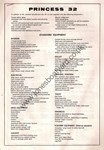 Princess 32
---

We are passionate about building a comprehensive archive of boating information. Can you help us with any missing information or brochures?
Please email any historical information you may know or brochures to info@jonesboatyard.co.uk – if we use your brochure on the website we will send you a £10 voucher to use in our chandlery!