---
Sold - Mar 19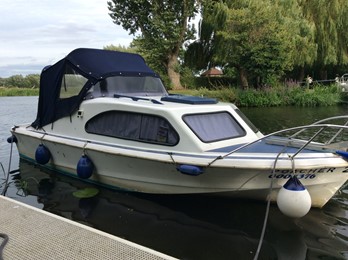 Shetland 535, "Poacher 2"
Boat Length:
17ft 5in (5.37m)
Berths:
5ft 4in (1.63m)
Year:
Early 70,s
Fuel Type:
Petrol
This Shetland 535 has been rfitted by her owners to high standards.

Shetland 535 Model Information and Photo Gallery
---
Shetland 535 Photo Gallery Archives
Archived Boats (Boats below not for sale)
Shetland 535 Further Reading
This craft must be one of the most produced models in the UK motor boat industry with over 7000 boats built. They are seen on river canals and estuaries and were popular in Western Europe. The classic 2 berth cabin and larger cockpit design was built between 1972 and 1986
Useful Links
Purchase Shetland Saker, 535 & Cadet Boat Test Reports
Shetland 535 Documents and Original Brochures
---

We are passionate about building a comprehensive archive of boating information. Can you help us with any missing information or brochures?
Please email any historical information you may know or brochures to info@jonesboatyard.co.uk