---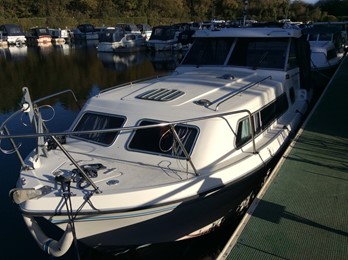 Atlanta 27, "Castaway"
Boat Length:
27ft (8.23m)
Berths:
4
Year:
Believed 1996
Fuel Type:
Diesel
This custom built Atlanta 27 was fitted out by a retired cabinet maker to very high standards. This well equipped craft must be viewed
£25,000.00
Sold - Mar 19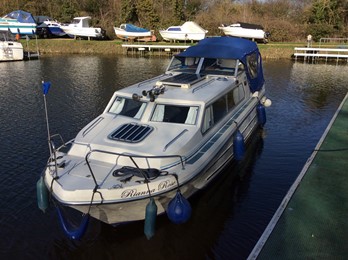 Atlanta 24, "Rianna Rose"
Boat Length:
24ft (7.32m)
Berths:
4
Year:
Believed 1989
Fuel Type:
Petrol
The Atlanta 24 is a well built narrow beam cruiser suitable for river and canal cruising.
£10,950.00
Sold - Mar 18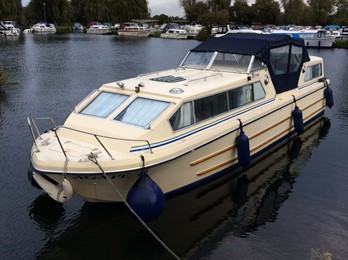 Atlanta 32 Centre Cockpit, "Agape"
Boat Length:
32ft (9.75m)
Berths:
6
Year:
Believed early 90's
Fuel Type:
Petrol
The Atlanta 32 is a narrow beam cruiser suitable for both river and canal use. The centre cockpit design provides 2 separate cabins and there is berthing for 6 people. there are 2 toilets and 2 showers.

Further Information on Atlanta Boat Models
Atlanta Boat Information
Fibreglass Construction of Burnley started to produce the Atlanta range of craft. The company started following the demise of Norman cruisers at Shaw Lancs. These solidly well built criusers used the Norman 24,Norman266 and Norman 32 mouldings. The Atlanta 27 was also built by a company called Practical marine based in Blackheath West Midlands for a short time.The Atlanta 24 and 32 models are still produced by GSA marine in Norfolk and the Atlanta went on to be developed by Shetland in to the highly successful Shetland 27.Atlanta boats were in production from about 1985 to 1995
Atlanta Boat Models
Useful Links
Atlanta Documents and Original Brochures
---

We are passionate about building a comprehensive archive of boating information. Can you help us with any missing information or brochures?
Please email any historical information you may know or brochures to info@jonesboatyard.co.uk – if we use your brochure on the website we will send you a £10 voucher to use in our chandlery!