---
Sold - Apr 19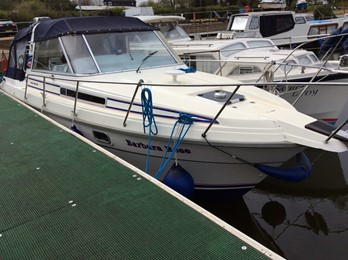 Nimbus 28DC, "Barbara Rose"
Boat Length:
28ft 8in (8.74m)
Berths:
4 plus 2
Year:
1987
Fuel Type:
Diesel
The Nimbus 28DC  is a stylish cruiser with a large social cockpit and is a rare example.

Further Information on Nimbus Boat Models
Nimbus Boat Information
The start of the super quality Swedish brand was driven initially by Volvo Penta. In the 1960s, Harold Wiklund, then head of the company decided he needed a motor cruiser to launch their new inboard engine range. Pelle Petterson was commissioned to design a boat in 1969. The Nimbus 26 was an instant hit and in 1970, it was the boat of the year. After 8 successful years, brothers Hans and Lars Wiklund started Nimbus boats proper and has gone from strength to strength. The company is now within a large group containing brands such as Maxi Ryds and Storebro. Even today the design clues on the Nimbus range are unique and are a brand that stands out from the rest. Their latest developments are in electric powered boats capable of 27 knots!
Nimbus Boat Models
Useful Links
Purchase Nimbus Boats Boat Test Reports
Nimbus Documents and Original Brochures
---