We currently have no Discovery 33 boats for sale

Discovery 33 Model Information and Photo Gallery
---
Discovery 33 Photo Gallery Archives
Archived Boats (Boats below not for sale)
Discovery 33 Further Reading
This round bilge GRP boat craft featured a long keel for easy handling. The centre cockpit has a sliding GRP wheelhouse and the airdraft was kept at 8ft. There were 6 berths in 3 cabins. Some models have 2 toilets. Engines fitted were ususally Perkins, BMC or Mercedes 4 cylinder diesels on shaft drive. The design was influenced and marketed by Ken Pfaff who was previously a sales manager for Appleyard, Lincoln, Ely.These craft were about as large a cruiser that can be put on the River Great Ouse and several have been completley refitted by their owners to provide a more modern interior with good facilities.The images show a refitted example.
Useful Links
Discovery 33 Documents and Original Brochures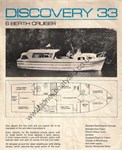 Discovery 33
---

We are passionate about building a comprehensive archive of boating information. Can you help us with any missing information or brochures?
Please email any historical information you may know or brochures to info@jonesboatyard.co.uk