---
Sold - Jun 17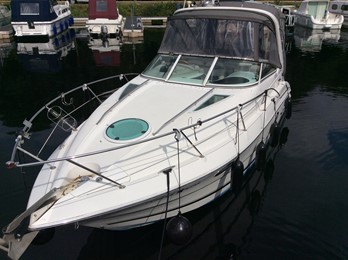 Doral Monticello, "Purple Star"
Boat Length:
28ft 3in (8.61m)
Berths:
4
Year:
Believed 2004
Fuel Type:
Petrol
The Doral Monticello is a quality built Canadian built sports cruiser with a large social seating area.
£29,950.00

Further Information on Doral Boat Models
Doral Boat Information
This Canadian boatbuilding company was founded in 1972 and gradually expanded merging in 1989 with Thundercraft and Canot Cadorette. The company are famed for building a well respected cruiser with very fine attention to detail. We tend to see the Monticello range in the UK.
Doral Boat Models
---

We are passionate about building a comprehensive archive of boating information. Can you help us with any missing information or brochures?
Please email any historical information you may know or brochures to info@jonesboatyard.co.uk – if we use your brochure on the website we will send you a £10 voucher to use in our chandlery!