---
Sold - Jun 17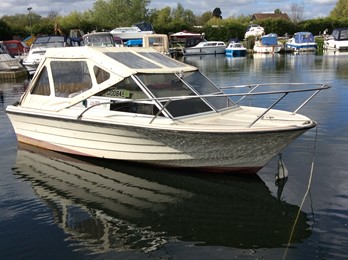 Draco 2000 DC, "Little Bess"
Boat Length:
20ft (6.10m)
Berths:
2
Year:
Believed early 80's
Fuel Type:
Petrol
This Scandanavian weekend cruiser was converted in 2009 to make a great river cruiser with an economical 4 stroke outboard. The boat comes as a complete package with road trailer.
£4,950.00

Further Information on Draco Boat Models
Draco Boat Information
Kare Dragsholt founded Draco boats in the late 60's. The company employed Jan Herman to design their striking compact sports cruisers. in the 70's the company was one of Europes largest small boat builders. The company still thrives today with a strong European dealer net work.
Draco Boat Additional Information
A Norwegian boatbuilding company that produce stylish stout cruisers usually with larger engines for fjord use.
Draco Boat Models
---

We are passionate about building a comprehensive archive of boating information. Can you help us with any missing information or brochures?
Please email any historical information you may know or brochures to info@jonesboatyard.co.uk – if we use your brochure on the website we will send you a £10 voucher to use in our chandlery!