---
Sold - Aug 21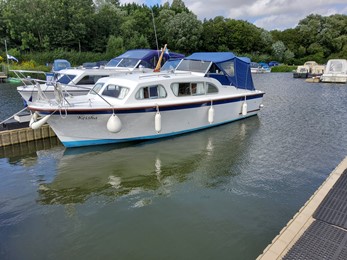 Elysian 27, "Keisha"
Boat Length:
27ft (8.23m)
Berths:
4
Year:
Believed Early 70s
Fuel Type:
Diesel
This Elysian 27 is a well priced example of these Ouse built classic cruisers.
£13,950.00
Sold - Oct 20
Elysian 27, "Solstice"
Boat Length:
27ft (8.23m)
Berths:
4
Year:
Believed 1965
Fuel Type:
Petrol
The Elysian 27 is a well sized and practical family cruiser. Suitable for day trips or longer weekends & short breaks away on the river.
Sold - Jan 21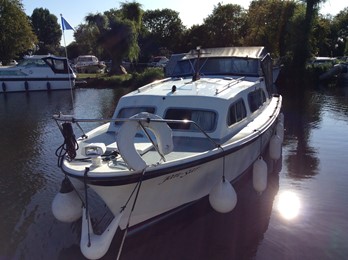 Elysian 27, "Jansar"
Boat Length:
27ft (8.23m)
Berths:
4
Year:
Believed 1967
Fuel Type:
Diesel
This very tidy Elysian 27 was fitted out to high standards by Buckden Marina. This craft was re engined in 1997 with a modern diesel engine.

Elysian 27 Model Information and Photo Gallery
---
Elysian 27 Photo Gallery Archives
Archived Boats (Boats below not for sale)
Elysian 27 Further Reading
This craft was a true Fenland design. Designed and built in Ely, Cambridgeshire, this was a very successful design with a shallow V bottom and long keel. Lincoln and co built the firtst of over 1600 Elysian 27s in 1963. The hull design was later developed and stretched into the Princess 32 hull. Early production started in 1963 and several versions were produced. In the early 1970s the craft was re-branded the JGM Madeira 27 with a glass fibre interior mouldings. Latterly Bounty Boats took over the moulds and produced the Bounty 27 with a redesigned superstructure. In the late 1960s, F.W. Carrington made some boats with a wooden centre cockpit superstructure. This was then put into production with a GRP moulding and an aft cabin version was also available. Many mouldings were shipped to boatyards to fit out and many of them were used as hire boats. The popular engine was the BMC Vedette, petrol BMC and Perkins diesel usually shaft driven. There are also some outdrive versions
Useful Links
Purchase Elysian 27 Boat Test Report
Elysian 27 Documents and Original Brochures
---

We are passionate about building a comprehensive archive of boating information. Can you help us with any missing information or brochures?
Please email any historical information you may know or brochures to info@jonesboatyard.co.uk