We currently have no Fairline 19 Family boats for sale

Fairline 19 Family Model Information and Photo Gallery
---
Fairline 19 Family Photo Gallery Archives
Archived Boats (Boats below not for sale)
Fairline 19 Family Further Reading
The Fairline 19 was the first of the extensive range of Fairline boats. There were two berths in the cabin and seating in the cockpit. The hull shape is a shallow V with a long shallow keel. The Fairline Family 20 was introduced in 1972 which was a slightly enlarged version of the Fairline 19.
Useful Links
Purchase Fairline Test Reports
Fairline 19 Family Documents and Original Brochures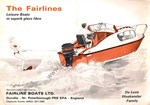 Failine Cruisers
---

We are passionate about building a comprehensive archive of boating information. Can you help us with any missing information or brochures?
Please email any historical information you may know or brochures to info@jonesboatyard.co.uk