---
Sold - Aug 17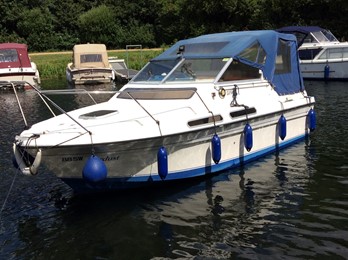 Fairline Carrera 24, "Stardust"
Boat Length:
24ft (7.32m)
Berths:
4
Year:
Believed 1986
Fuel Type:
Petrol
This Fairline Carrera is a well appointed twin petrol engined cruiser. The radar arch is hinged to reduce bridge clearance.
£15,950.00

Fairline Carrera 24 Model Information and Photo Gallery
---
Fairline Carrera 24 Photo Gallery Archives
Archived Boats (Boats below not for sale)
Fairline Carrera 24 Further Reading
These were the first of the true sports cruisers developed by Fairline. Bernard Olesinski started the modern era with his designs which still are used today. This deep V planing hull craft is designed with performance in mind. This heralded the design ethos of large sociable cockpits for warm sunny use often found in Europe. All models were outdriven. Powered usually by Volvo petrol/diesel engines.
Useful Links
Purchase Fairline Test Reports
Fairline Carrera 24 Documents and Original Brochures
---

We are passionate about building a comprehensive archive of boating information. Can you help us with any missing information or brochures?
Please email any historical information you may know or brochures to info@jonesboatyard.co.uk – if we use your brochure on the website we will send you a £10 voucher to use in our chandlery!