---
Sold - Sep 20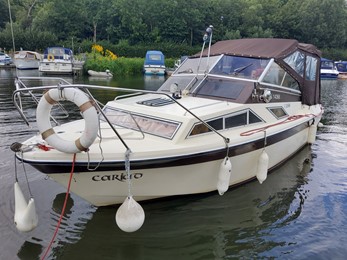 Fairline Holiday mk3, "Cariad"
Boat Length:
20ft 4in (6.20m)
Berths:
4
Year:
Early 80s
Fuel Type:
Petrol
A classic sports cruiser from Fairline with elevated cockpit for a better view while crusing.

Fairline Holiday mk3 Model Information and Photo Gallery
---
Fairline Holiday mk3 Photo Gallery Archives
Archived Boats (Boats below not for sale)
Fairline Holiday mk3 Further Reading
The Fairline Holiday was the most popular craft to date built by Fairline with over 590 boats built. This semi displacement deep V hull with rounded shallow transom section was designed by John Bennett. The design produced a craft suitable for inland and sheltered coastal use. The interior design offers 2 conventional V berths to the bow section with 2 further berths extending aft under the cockpit. This was one of the first designs of cruiser with an elevated cockpit height giving good cruising versions. Some craft have been re-engined over the years.
The mk1 and mk2 models were slightly smaller at 22ft 1in/6.73m in length and 8ft 6ins/2.59m beam.
Useful Links
Purchase Fairline Test Reports
Fairline Holiday mk3 Documents and Original Brochures
---

We are passionate about building a comprehensive archive of boating information. Can you help us with any missing information or brochures?
Please email any historical information you may know or brochures to info@jonesboatyard.co.uk