---
Sold - May 18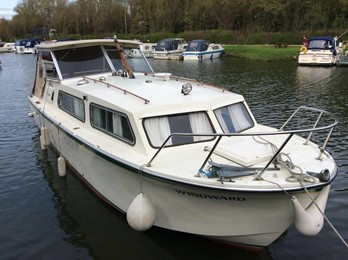 Freeman 28, "Windward"
Boat Length:
28ft (8.53m)
Berths:
4
Year:
Believed 1973
Fuel Type:
Petrol
The Freeman 28 is a rare model from the well respected Freeman boatbuilders. This boat has a fitted wheelhouse hardtop. Windward has been in the same ownership since 1974
£13,950.00
Sold - Jun 17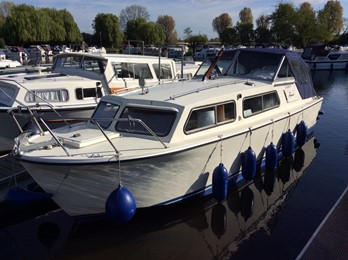 Freeman 28, "Lily Pad"
Boat Length:
28ft (8.53m)
Berths:
4
Year:
Believed 1974
Fuel Type:
Diesel
The Freeman 28 is a rare boat. this craft has the benefit of a folding screen and full canopy new 2017. The boat was re engined with an economical diesel engine in 2007
£25,000.00

Freeman 28 Model Information and Photo Gallery
---
Freeman 28 Photo Gallery Archives
Archived Boats (Boats below not for sale)
Freeman 28 Further Reading
These craft are essentially a stretched version of the smaller 22 and 23 model. A shallow V hull with long keel allows for easy, slow speed handling. The cabin offers 4 berths usually in open plan layout. The 28 is a rare craft as only 60 were built. All craft were conventional shaft driven with either Ford Watermota Petrol or Perkins diesel.
Useful Links
Freeman 22 mk1 and mk2, 26 and 33 Brochure
Purchase Freeman 26 and 27 Test Report
Freeman 28 Documents and Original Brochures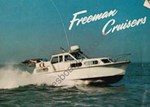 Freeman Cruisers
---

We are passionate about building a comprehensive archive of boating information. Can you help us with any missing information or brochures?
Please email any historical information you may know or brochures to info@jonesboatyard.co.uk – if we use your brochure on the website we will send you a £10 voucher to use in our chandlery!