We currently have no Freeman 30 MK I and Freeman 30 aft cabin boats for sale

Freeman 30 MK I and Freeman 30 aft cabin Model Information and Photo Gallery
---
Freeman 30 MK I and Freeman 30 aft cabin Photo Gallery Archives
Archived Boats (Boats below not for sale)
Freeman 30 MK I and Freeman 30 aft cabin Further Reading
The Mk1 versions of these boats had a GRP hull with timber superstructure. The boats were produced in aft and centre cockpit designs.Built between 1963 and 1965 These were usually powerd by twin parsons 4 cylinder diesels
The later freeman 30 was all GRP in centre cockpit form. The design was very similar to the old Mk 1 version. These were built between 1966 and 1970. These craft were usually fitted with the 6 cylinder thornycroft diesels 108hp each side.
Useful Links
Freeman 22 mk1 and mk2, 26 and 33 Brochure
Purchase Freeman 26 and 27 Test Report
Freeman 30 MK I and Freeman 30 aft cabin Documents and Original Brochures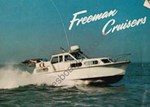 Freeman Cruisers
---

We are passionate about building a comprehensive archive of boating information. Can you help us with any missing information or brochures?
Please email any historical information you may know or brochures to info@jonesboatyard.co.uk – if we use your brochure on the website we will send you a £10 voucher to use in our chandlery!