---
Sold - Mar 18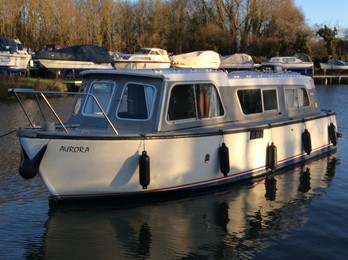 Safari 25, "Aurora"
Boat Length:
25ft (7.62m)
Berths:
4
Year:
Believed early 80's
Fuel Type:
Diesel
This Safari 25 was fitted out by Sutton Staithe boatyard in Norfolk as a fleet boat and has been in in private ownwership since 1994. The boat has been upgraded and improved over the years and the craft offer a fresh, tidy interior.
£15,950.00
Sold - Feb 18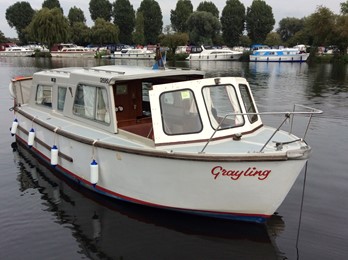 Safari 25, "Grayling"
Boat Length:
25ft (7.62m)
Berths:
4
Year:
Believed 1973
Fuel Type:
Diesel
The safari 25 is a practical low profile cruiser. The wide decks make river use easy. Level flooring throughout. This Safari 25 was fitted by Fairburn Boats. This boat has a well presented interior.
£13,500.00

Further Information on Hampton Safari Boat Models
Hampton Safari Boat Information
Hampton Boats were based in Oulton Broad, Lowestoft and were wooden boat builders in 1958. In the early 60s Alec Hampton developed a forward drive wooden cruiser for his hire fleet which proved popular. In 1969 Alec designed and moulded the Safari 25 to modernise his hire fleet. The design became very popular and many of the mouldings were sold for companies to build their own hire craft. Several companies such as L H Jones used the mouldings to build custom designed private craft.
Hampton Safari Boat Models
Useful Links
Hampton Safari Documents and Original Brochures
---

We are passionate about building a comprehensive archive of boating information. Can you help us with any missing information or brochures?
Please email any historical information you may know or brochures to info@jonesboatyard.co.uk – if we use your brochure on the website we will send you a £10 voucher to use in our chandlery!