We currently have no Hardy Seawings 194 boats for sale

Hardy Seawings 194 Model Information and Photo Gallery
---
Hardy Seawings 194 Photo Gallery Archives
Archived Boats (Boats below not for sale)
Hardy Seawings 194 Further Reading
This later design and build from Hardy is a modern take on the traditional Navigator range. The interiors are more rounded in the forward cabin area and the superstructure more angular.
Useful Links
Purchase Hardy Family Pilot & Pilot 20 Boat Test Reports
Hardy Seawings 194 Documents and Original Brochures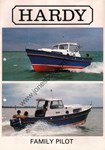 Hardy Boats
---

We are passionate about building a comprehensive archive of boating information. Can you help us with any missing information or brochures?
Please email any historical information you may know or brochures to info@jonesboatyard.co.uk