We currently have no Hardy Seawings 254 boats for sale

Hardy Seawings 254 Model Information and Photo Gallery
---
Hardy Seawings 254 Photo Gallery Archives
Archived Boats (Boats below not for sale)
Hardy Seawings 254 Further Reading
This Sporty cruiser has 2 generous berths within the cabins and extra berthing within the cockpit. The craft are well fitted to include hot water showers etc. As is ever the case this Hardy is a well proven sea boat for faster coastal use.
Useful Links
Purchase Hardy Family Pilot & Pilot 20 Boat Test Reports
Hardy Seawings 254 Documents and Original Brochures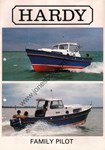 Hardy Boats
---

We are passionate about building a comprehensive archive of boating information. Can you help us with any missing information or brochures?
Please email any historical information you may know or brochures to info@jonesboatyard.co.uk