---
Sold - Feb 20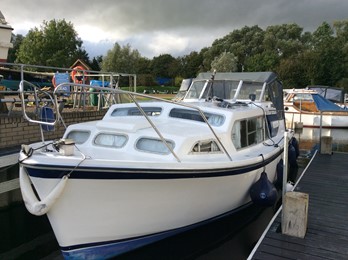 Ocean 30, "Ocean Blue"
Boat Length:
29ft 9in (9.15m)
Berths:
6
Year:
Believed 1973
Fuel Type:
Diesel
This Ocean 30 has the small rear cabin area which has a double berth. This makes a very practical family river cruiser.
Sold - Nov 19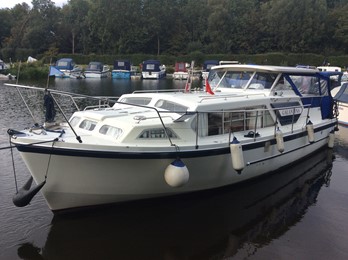 Ocean 30, "Galantina"
Boat Length:
30ft (9.14m)
Berths:
5
Year:
Believed 1973
Fuel Type:
Diesel
This hardtop Ocean 30 is a good example of this popular twin diesel engined cruiser.
Sold - Jun 19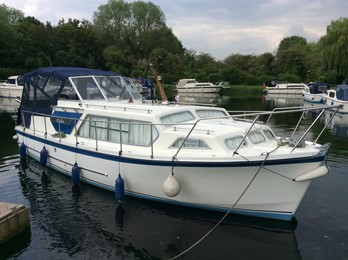 Ocean 30, "Tiandra"
Boat Length:
29ft 8in (9.04m)
Berths:
4
Year:
Believed early 70's
Fuel Type:
Diesel
This twin engined Ocean 30 is a very tidy and original condition example. The craft has a wrap round dinette and teak interior. Stainless steel guard rails. Battery charger.

Ocean 30 Model Information and Photo Gallery
---
Ocean 30 Photo Gallery Archives
Archived Boats (Boats below not for sale)
Ocean 30 Further Reading
This classic styled cruiser was produced in various forms by several different builders from 1967 onwards. This solid round bilge long keeled displacement boat handles very easily at low speed and many oceans have been across the North Sea. The John Bennett design was moulded by Aqua Fibre of Rackheath. Most styles were aft cockpit but single and double aft cabins were also made. The inteior layout was 2 V berths in the separate front cabin, with conventional dinette. Some versions features wrap round dinette. The interiors were of high quality timber usually varnished mahogany, some special orders featured teak. The first model was known as a Moonraker 30, built by Buxton marine services. This is distinguishable from other Oceans having a stout PVC upper strake, black marble formica toilet compartment and large decorative mast. Around 1971 Herbert Woods Potter Heigham took over production and then Dick Nunn from 1974 to 1977 after which a few were built by Ray Bondon.
The cockpit configuration varies from full canopy with folding windscreen to hard top with high screen and hard top with lower screen (usually with lowered floors) Engines were usually Mercedes OM636 diesel and Perkins diesel single and twin all conventional aft drive. The hire cruiser versions often had BMC 1.5 diesels. Over 200 Ocean 30s and 38 Moonrakers were built. Top speed was tested at approx 10 knots. The AF 30 mouldings were also used by many hire companies to build their own fleet boats. These often had the single aft cabin. The double aft cabin was generally built for private use.
Useful Links
Ocean 30 Documents and Original Brochures
---

We are passionate about building a comprehensive archive of boating information. Can you help us with any missing information or brochures?
Please email any historical information you may know or brochures to info@jonesboatyard.co.uk