---
Sold - May 17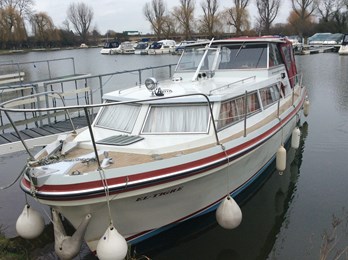 Princess 32 Luxus aft cabin, "El Tigre"
Boat Length:
31ft 4in (9.55m)
Berths:
6
Year:
Believed early 70,s
Fuel Type:
Diesel
This twin diesel shaft driven Princess 32 Luxus aft cabin is a very rare version of this classic cruiser offering generous accommodation
£15,000.00

Princess 32 Luxus aft cabin Model Information and Photo Gallery
---
Princess 32 Luxus aft cabin Photo Gallery Archives
Archived Boats (Boats below not for sale)
Princess 32 Luxus aft cabin Further Reading
This model was a rare aft cabin version of the Princess 32. Only about 6 were believed to be made. The forward cabin remains the same, the cockpit is shortened to accommodate the aft cabin moulding. The engines are centrally mounted with v drive gearboxes on conventional shaft drive.
Useful Links
Purchase Princess 32 & 32 Riviera Boat Test Reports
---

We are passionate about building a comprehensive archive of boating information. Can you help us with any missing information or brochures?
Please email any historical information you may know or brochures to info@jonesboatyard.co.uk – if we use your brochure on the website we will send you a £10 voucher to use in our chandlery!