---
Sold - May 18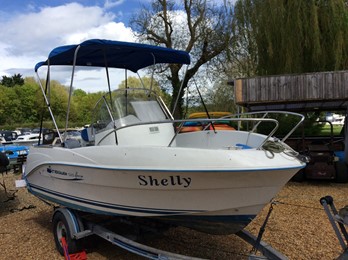 Quicksilver Flamingo 525, "Shelly"
Boat Length:
17ft 4in (5.28m)
Berths:
None
Year:
Believed 2006
Fuel Type:
Petrol
The Quicksilver  Flamingo 525 is a great day boat which has an easy, but safe walk round deck arrangement. The craft has an economical smaller outboard and a trailer.

Quicksilver Flamingo 525 Model Information and Photo Gallery
---
Quicksilver Flamingo 525 Photo Gallery Archives
Archived Boats (Boats below not for sale)
Quicksilver Flamingo 525 Further Reading
This open day boat has a 'C' rating for estuary and inland use. The foredeck area makes for a sun lounger and there is a small cuddy locker for storage.There are usually 2 helm seats.
Useful Links
---

We are passionate about building a comprehensive archive of boating information. Can you help us with any missing information or brochures?
Please email any historical information you may know or brochures to info@jonesboatyard.co.uk