---
Sold - Sep 17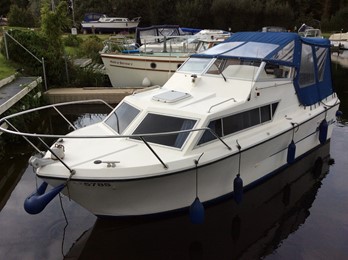 Reflection 23, "Quicksilver"
Boat Length:
23ft (7.01m)
Berths:
4
Year:
Believed early 90's
Fuel Type:
Petrol
This Reflection 23 is well appointed example of this popular river cruiser
£11,950.00

Further Information on Reflection Boat Models
Reflection Boat Information
Reflection boats were built by Pace marine of Nottingham from the late 80s to early 90s.Please see detail of Reflection 23 for more information.
Reflection Boat Models
Reflection Documents and Original Brochures
---

We are passionate about building a comprehensive archive of boating information. Can you help us with any missing information or brochures?
Please email any historical information you may know or brochures to info@jonesboatyard.co.uk – if we use your brochure on the website we will send you a £10 voucher to use in our chandlery!