We currently have no Seamaster Commander boats for sale

Seamaster Commander Model Information and Photo Gallery
---
Seamaster Commander Photo Gallery Archives
Archived Boats (Boats below not for sale)
Seamaster Commander Further Reading
This model was designed by Phillip Goode with a single keel and round bilge hull. the cabin arragement offered berthing for 4 people. The boat has a vast open cockpit for its size.
Useful Links
Purchase Seamaster 8. 30 & 27 Boat Test Reports
Seamaster Commander Documents and Original Brochures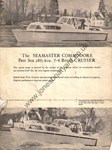 Seamaster Commodore
---

We are passionate about building a comprehensive archive of boating information. Can you help us with any missing information or brochures?
Please email any historical information you may know or brochures to info@jonesboatyard.co.uk