We currently have no Sheerline 950 centre cockpit boats for sale

Sheerline 950 centre cockpit Model Information and Photo Gallery
---
Sheerline 950 centre cockpit Photo Gallery Archives
Archived Boats (Boats below not for sale)
Sheerline 950 centre cockpit Further Reading
This centre cockpit sliding top cruiser has a folding screen to allow low airdraught clearance. This all weather cruiser offers 6 berths in 3 seperate cabins and depending on version has 2 toilets and 2 showers. The build quality is to Sheerlines high standard.
Useful Links
Sheerline 950 centre cockpit Documents and Original Brochures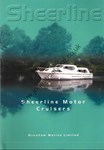 Sheerline boats
---

We are passionate about building a comprehensive archive of boating information. Can you help us with any missing information or brochures?
Please email any historical information you may know or brochures to info@jonesboatyard.co.uk – if we use your brochure on the website we will send you a £10 voucher to use in our chandlery!