---
Sold - Jun 18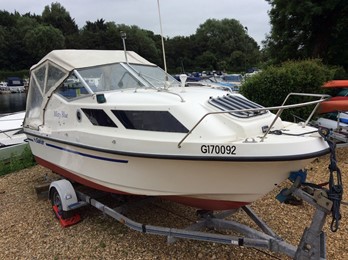 Shetland Sakar, "Misty Blue"
Boat Length:
18ft 8in (5.69m)
Berths:
2 plus 2
Year:
Beleived 1990
Fuel Type:
Petrol
This Shetland Saker was extensivly refitted in 2016 to high standards. The cabin has been retrimmed, upholstery replaced and the boat generally updated.

Shetland Sakar Model Information and Photo Gallery
---
Shetland Sakar Photo Gallery Archives
Archived Boats (Boats below not for sale)
Shetland Sakar Further Reading
This Colin Mudie designed cruiser was a more modern replacement for the 535 range and slightly larger although capable of being trailed. The emphasis on coastal performance was greater, the stronger transom could accept up to 115hp outboards. Some petrol inboard versions were also built. 122 of these craft were built.
Standing headroom in cabin is 4ft 5ins. Length of V berth 6ft.
Useful Links
Purchase Shetland Saker, 535 & Cadet Boat Test Reports
Shetland Sakar Documents and Original Brochures
---

We are passionate about building a comprehensive archive of boating information. Can you help us with any missing information or brochures?
Please email any historical information you may know or brochures to info@jonesboatyard.co.uk