---
Sold - Jan 18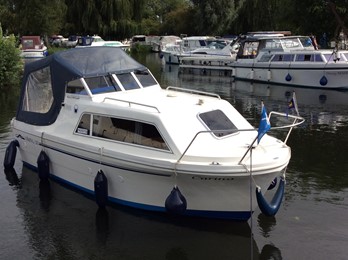 Viking 20 High Line, "Carina"
Boat Length:
20ft (6.10m)
Berths:
4
Year:
Believed 2015
Fuel Type:
Petrol
The Viking 20 is a great starter boat. These craft offer all modern facilities within a compact size.

Viking 20 High Line Model Information and Photo Gallery
---
Viking 20 High Line Photo Gallery Archives
Archived Boats (Boats below not for sale)
Viking 20 High Line Further Reading
This is the latest version of the popular Viking 20 range. This model includes hot water ,shower, and fridge as standard.
Standing headroom in cabin is 5ft 10ins. Length of V berth 6ft.
Useful Links
Purchase Viking Boats Boat Test Reports
Viking 20 High Line Documents and Original Brochures
---

We are passionate about building a comprehensive archive of boating information. Can you help us with any missing information or brochures?
Please email any historical information you may know or brochures to info@jonesboatyard.co.uk – if we use your brochure on the website we will send you a £10 voucher to use in our chandlery!