---
Sale Pending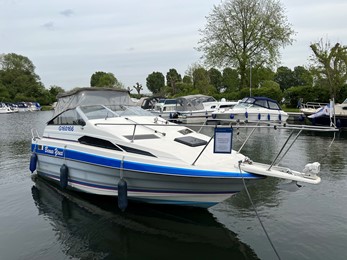 Bayliner 2155 Ciera, "Beaux Yeux"
Boat Length: 21ft 1ins(6.43m)
Berths: 4
Year: Believed 1989
Fuel Type: Petrol
This compact and stylish American sportscruiser spent most of its time dry stored and cruised on the Lake Windermere. This craft has had only 3 owners from new.
£9,750.00
Sold - Jun 22
Bayliner 192 Discovery, "Unnamed"
Boat Length: 19ft (5.79m)
Berths: 2
Year: Believed 2006
Fuel Type: Petrol
This very tidy example of the Bayliner 192 Discovery is a lovely all round sports cuddy. She provides accommodation for the occasional overnight stay and has a large, spciable cockpit. This is a full-package boat with 4-axle trailer included.
£17,500.00

Further Information on Bayliner Boat Models
Bayliner Boat Information
This budget American manufacturer traces its roots back to 1955 when Jorin Edson went into boat selling existed producing plywood run abouts. The general rumour was that Mr Edson purchased the name Bayliner for $100 then transformed the company into its mass production of GRP craft. Bayliner produced both yachts and motor cruisers. The manufacturer never set out to be at the top end of quality but focused very sensibly on "boats for the masses" which were built and priced accordingly. The range of motor cruiser we generally see in the UK are in the 21ft to 32ft range. The planing design was primarily conceived hence the normal larger V8 petrol engines. These give fast distance cruising where economy is not such an issue. These planing hulls generally manage well at slow speeds and the design of these craft is always appealing, in short, great looking boats at great prices. Many craft are sold through UK dealers but others are direct imports by owners.
Bayliner Boat Models
Useful Links
Purchase Bayliner 2855 Cierra & 2455 Cierra Boat Test Reports
---