---
Sold - Jul 21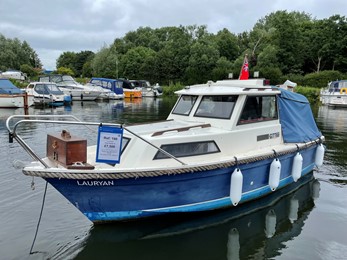 Hardy Regatta 19, "LAURYAN"
Boat Length: 19ft (5.79m)
Berths: 2
Year: Believed 1986
Fuel Type: Petrol
The Hardy Regatta 19 is a stout yet compact cruiser from this quality Norfolk boatbuilder. This boat benefits from an upgraded outboard motor fitted NEW in 2017. Fenders, fender ropes and mooring lines replaced June 2021.
Sold - Jul 21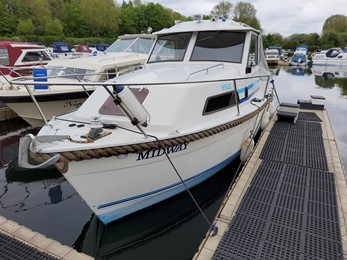 Hardy Seawings 234, "Midway"
Boat Length: 24ft 8in (7.52m)
Berths: 4
Year: Believed 1991
Fuel Type: Diesel
'Midway' is a modern, stylish cruiser with a large economical diesel engine making her suitable for both inland and coastal use. This boat is equipped nicely for sea-going use and can accommodate four people comfortably. This boat presents herself nicely and has been well maintained.

Further Information on Hardy Marine Boat Models
Hardy Marine Boat Information
John Hardy's long involvement in the boat industry goes back to early Shetland days. Together with the renowned designer Colin Mudie the famous fishing boat range was produced. Various versions of the original design were produced including motor sailors,in latter years the company went on to build their Seawing range, designed by Andrew Wolstenholme, which took the company to new, popular levels. All craft built from this company have a reputation for classic design stout build and kindly sea keeping qualities. The boats are proving to be a timeless design.
Hardy Marine Boat Models
Useful Links
Purchase Hardy Family Pilot & Pilot 20 Boat Test Reports
Hardy Marine Documents and Original Brochures
---