---
Sold - Jun 22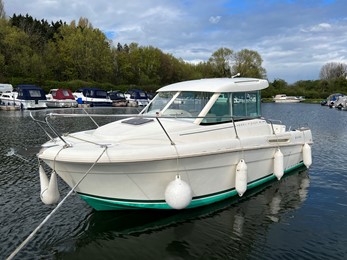 Jeanneau Merry Fisher 655, "Wonderful Life"
Boat Length: 21ft 8in (6.6m)
Berths: 2 plus 1
Year: March 2007
Fuel Type: Diesel
The Jeanneau Merry Fisher 655 is a very stylish and practical cruiser with a spacious cockpit and living space. The larger diesel engine makes the craft suitable for river and coastal use. The aft cockpit is self draining, but a full canvas canopy is also included.
£34,950.00
Sold - Jun 22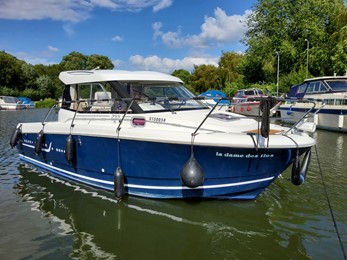 Jeanneau Merry Fisher 755, "La Dame Des Iles"
Boat Length: 24ft 3ins (7.40m)
Berths: 4
Year: 2011
Fuel Type: Petrol
This Jeanneau Merry Fisher 755 Premier edition, is a lovely example of this practical day boat or weekender. "Le Dame Des Iles" provides comfortable cruising and has a large sliding sunroof and self draining rear cockpit.
£45,000.00

Further Information on Jeanneau Boat Models
Jeanneau Boat Information
Henri Jeanneau started building boats in 1957 in Les Herbiers. He started off building wooden hulls. In 1959 he hired canoe builders as apprentices to expand production. Then the company went into GRP production and have become one of Europe's biggest motor and sail boat builder.
Jeanneau Boat Models
Useful Links
Jeanneau Documents and Original Brochures
---