---
Sale Pending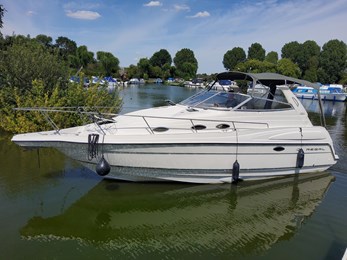 Regal 2760 Commodore, "Dream Weaver"
Boat Length: 28ft 9in (8.8m)
Berths: 4
Year: Believed 1998
Fuel Type: Petrol
"Dream Weaver" is a twin engined American sports cruiser, fitted with more modern fuel injected petrol engines providing strong coastal performance. This vessel consists of a very high specification.
£28,000.00

Further Information on Regal Boat Models
Regal Boat Information
Paul and Carol Kuck fouded regal boats in 1969 based in Orlando Florida USA. The first range of craft were sports boats going up to sports cruisers. The company has won the J D Power customer satifaction survey awards for their range of craft and now produce a 52ft flagship cruiser. Gibbs marine on Poole are UK importers.
Regal Boat Models
---