---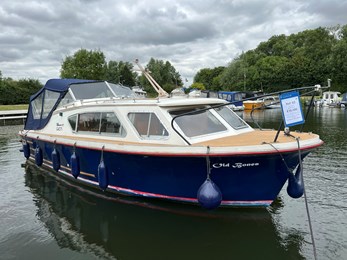 Seamaster 27, "Old Bones"
Boat Length: 26ft 8in (8.13m)
Berths: 4
Year: Believed 1969
Fuel Type: Diesel
"Old Bones" is a lovely example of the classic Seamaster 27. She has been upgraded in many ways over the years to include a more modern Yanmar diesel engine and refitted interior and exterior.
£18,500.00

Seamaster 27 Model Information and Photo Gallery
---
Seamaster 27 Photo Gallery Archives
Archived Boats (Boats below not for sale)
Seamaster 27 Further Reading
The Seamaster 27 was without doubt Seamaster's big success story. The craft was an in house development of the Seamaster 25 Admiral. The hull design is a hard chine smoothing out to a shallow V towards the stern. There is a moulded keel and usually small bilge keels.
The interior is a classic 2 cabin 4 berth layout and the joinery was in quality timber and to a good standard. The conventional shaft driven system was fitted with Wortham Blake/Ford engines, BMC 1.5 diesels and Perkins 4.107/4.108 diesels.
Useful Links
Purchase Seamaster 8. 30 & 27 Boat Test Reports
Seamaster 27 Documents and Original Brochures
---