We currently have no Birchwood 22 boats for sale

Birchwood 22 Model Information and Photo Gallery
---
Birchwood 22 Photo Gallery Archives
Archived Boats (Boats below not for sale)
Birchwood 22 Further Reading
The Birchwood 22 first came out in 1970 and featured an open plan cabin arrangement for four people. The reasonably sized cockpit had a GRP hardtop fitted. About 100 were built up to 1980. The hull shape is medium V. Various makes and powers of diesel and petrol outdrives were fitted. The first models were called the interceptor range, had a shorter wheelhouse hardtop and were all outdriven. The 22 version featured a longer hardtop and most models had inboard engines, with conventional shaft drive. The shaft was somewhat protected by a tunnel moulding in the hull. Engines in the early Interceptor versions features Volvo 115/130 petrol outdrive engines. Later Birchwood had Wortham Blake petrol shaft drives.
Standing headroom in cabin is 5ft 10ins. Length of V berth 5ft 11ins, open plan interior. The interior is fitted with a pleasant teak ply finish.
Useful Links
Purchase Birchwood 25 Boat Test Report
Birchwood 22 Documents and Original Brochures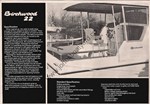 Birchwood 22
---

We are passionate about building a comprehensive archive of boating information. Can you help us with any missing information or brochures?
Please email any historical information you may know or brochures to info@jonesboatyard.co.uk