---
Sold - Mar 21
Colvic 28 aft cabin, "Lady Caroline"
Boat Length:
28ft (8.53m)
Berths:
6
Year:
Believed 1992
Fuel Type:
Diesel
The Colvic 28 is a ideal aft cabin river cruiser with an economical diesel engine. This boat can comfortably accomodate 6 people which makes it ideal for weekend cruising or for longer trips away on the water.
Sold - Sep 20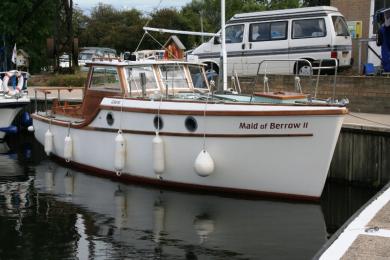 Colvic 26, "Maid of Berrow 11"
Boat Length:
26ft 6in (8.08m)
Berths:
4
Year:
Believed 1973
Fuel Type:
Diesel
The Colvic Northener is a stout classic boat which offers a good balance of varnished timber against easy to maintain GRP

Further Information on Colvic Boat Models
Colvic Boat Information
Colvic s directors Colin and Vic ,hence the name were based in Witham Essex and were prolific GRP moulders producing many different designs from the classic displacement round bilge boats to fast offshore cruisers. The majority of moulds were supplied to DIY fit out customers although some companies such as Northern Marine fitted out Colvic Northerner 27s to some success. The company, we think started in the late 60,s and finally finished in early 2000,s.
Colvic Boat Models
Useful Links
Purchase Colvic Countress 28 Boat Test Report
Colvic Documents and Original Brochures
---

We are passionate about building a comprehensive archive of boating information. Can you help us with any missing information or brochures?
Please email any historical information you may know or brochures to info@jonesboatyard.co.uk