---
Sold - Jun 17
Dolphin 21, "The Lazy Toad"
Boat Length:
24ft (7.32m) overall length
Berths:
4
Year:
Believed 2000
Fuel Type:
Petrol
This Dolphin 21 is a well appointed cruiser with all creature comforts. The craft has a 2007 Honda outboard. A 4 wheeled trailer is available by separate negotiation
£12,950.00
Sold - Jul 17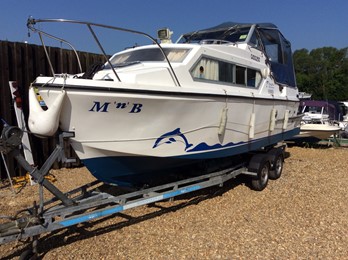 Dolphin 21, "M 'n' B"
Boat Length:
21ft (6.40m)
Berths:
4
Year:
Believed 2002
Fuel Type:
Diesel
This  Dolphin 21 was re engined in 2007 by her first owner with a Lombardini diesel engine on hydraulic drive unit. This craft comes with a trailer and has been fitted for comfortable extended river, canal cruising
£12,950.00
Sold - Jun 17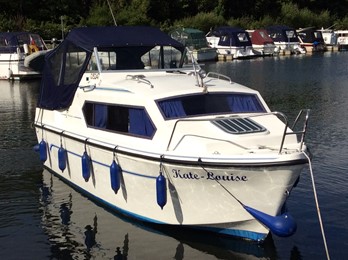 Dolphin 21, "Kate Louise"
Boat Length:
21ft (6.40m)
Berths:
3 plus 2
Year:
Believed 1998
Fuel Type:
Petrol
This cruiser was fitted out by Check Marine and has the benefit of an upgrade with new outboard in 2009 and new canopy in 2013. The narrow beam suits both river and canal use
£8,950.00

Dolphin 21 Model Information and Photo Gallery
---
Dolphin 21 Photo Gallery Archives
Archived Boats (Boats below not for sale)
Dolphin 21 Further Reading
Richard Allen was involved in the inland boat industry from the 1960s and set up his own building company in the mid 1990s. These craft used existing mouldings from Shetland or Beaves Marine. The interesting feature of these craft were the pod mount outboard which features a fuel tank, water and battery storage. Many of these craft offered advanced features such as hot water and showers. The interior used light veneer and modern upholstery.
Useful Links
Dolphin 21 Documents and Original Brochures
Dolphin 21
---

We are passionate about building a comprehensive archive of boating information. Can you help us with any missing information or brochures?
Please email any historical information you may know or brochures to info@jonesboatyard.co.uk – if we use your brochure on the website we will send you a £10 voucher to use in our chandlery!