---
Sold - Nov 18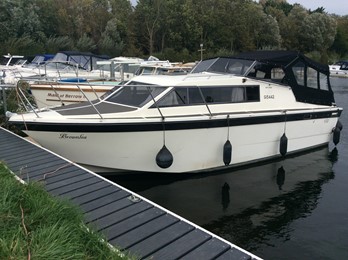 Duchess 9mtr, "Brownlea"
Boat Length:
29ft 4in (8.94m)
Berths:
4
Year:
Believed late 80s
Fuel Type:
Diesel
The Duchess 9mtr is a spacious twin engined shaft driven motor cruiser with an adaptable interior for family use. The twin engines assure easy handling.This is a well presented example of this craft which was supplied new by us.

Duchess 9mtr Model Information and Photo Gallery
---
Duchess 9mtr Photo Gallery Archives
Archived Boats (Boats below not for sale)
Duchess 9mtr Further Reading
The Duchess 9mtr was developed using the Seamaster 820 mouldings. This semi displacement hull has a tall free board hull offering large internal volume.The forward cabin has panels which can separate this area if necessary. The dinette to port can either be used as a wrap round style seating or railway carraige style seating. There is a bench seat opposite. The galley to port is offset and includes hot water fridge and cooker. The toilet compartment to opposite has a fitted shower unit and tray. The engines fitted were twin Volvo 2002 or 2003 series diesels on conventional shaft drives. The power rating per engine varied between 18hp and 43hp.
Useful Links
Duchess 9mtr Documents and Original Brochures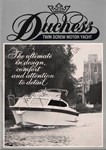 Duchess 9m
---

We are passionate about building a comprehensive archive of boating information. Can you help us with any missing information or brochures?
Please email any historical information you may know or brochures to info@jonesboatyard.co.uk