---
Sold - Aug 19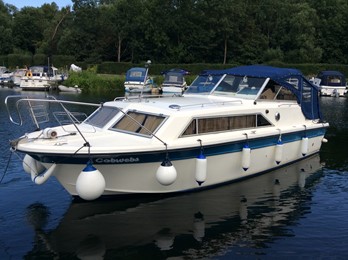 Fairline Mirage, "Cobwebs"
Boat Length:
28ft 8in (8.74m)
Berths:
5
Year:
Believed 1984
Fuel Type:
Diesel
 This Fairline Mirage is excetionally well presented; as original inside and benefits from twin diesel engines as well as folding windowscreen and a full canopy.
Sold - Apr 19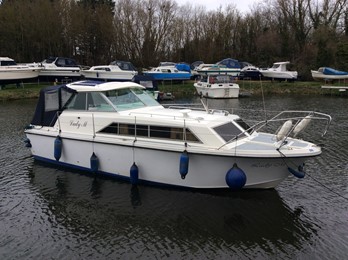 Fairline Mirage, "Lady M"
Boat Length:
28ft 5ins (8.66m)
Berths:
5
Year:
Believed 1980
Fuel Type:
Petrol
This Fairline Mirage is a tidy example of this popular family cruiser.
Sold - Apr 19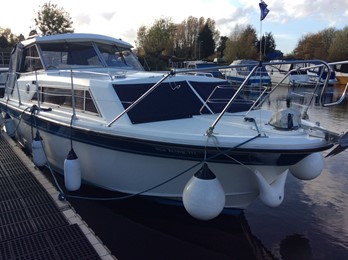 Fairline Mirage, "Sea King III"
Boat Length:
28ft 8in (8.74m)
Berths:
5
Year:
1985
Fuel Type:
Petrol
 A well presented and well equiped example of this popular river cruiser from Fairline. This was one of the last examples of a Mirage built by Fairline.

Fairline Mirage Model Information and Photo Gallery
---
Fairline Mirage Photo Gallery Archives
Archived Boats (Boats below not for sale)
Fairline Mirage Further Reading
This John Bennett design proved to be a popular design that still looks modern today. The internal volume of the craft allows 5 berths, with dinette and bench seating to create an additional single berth. The crafts beam allows the galley to be offset to the port side keeping the main thoroughfare of the cabin clear.An aft cabin cruiser was also produced which offered 6 berths. The aft cockpit craft were always powered with outdrives and usually Volvo petrol with some Volvo diesel. The aft cabin craft were more designed for inland use with conventional shaft drive in diesel with some twin engined versions.
Useful Links
Purchase Fairline Test Reports
Fairline Mirage Documents and Original Brochures
---

We are passionate about building a comprehensive archive of boating information. Can you help us with any missing information or brochures?
Please email any historical information you may know or brochures to info@jonesboatyard.co.uk