---
Sold - Jun 20
Freeman 27, "Jean May"
Boat Length:
27ft (8.23m)
Berths:
4
Year:
Believed 1978
Fuel Type:
Diesel
The Freeman 27 is a very popular family river cruiser, this example has a bow thruster fitted for easy handling and benefits from a full service June 2019.
Sold - Mar 21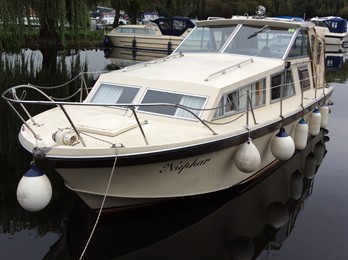 Freeman 27, "Nuphar"
Boat Length:
27ft (8.23m)
Berths:
4
Year:
Believed 1979
Fuel Type:
Diesel
This twin engine Freeman 27 is a delight to handle and comes with freemans usual high quality interior.
£18,950.00

Freeman 27 Model Information and Photo Gallery
---
Freeman 27 Photo Gallery Archives
Archived Boats (Boats below not for sale)
Freeman 27 Further Reading
This design heralded the beginning of the "modern" Freeman and was a development of the freeman 27 although stretched in every direction. The more sharp angular design with pigmented gels often in brown brought the models right up to date. The medium V hull with keel allows easy river handling. These designs were considerably wider than the previous models and featured wheelhouse hard tops ( some soft top versions do exist).
The 27ft mouldings were acquired by Aquafibre and a Sovreign 27 model was latterly produced by Norfolk Yacht agency.
Useful Links
Freeman 22 mk1 and mk2, 26 and 33 Brochure
Purchase Freeman 26 and 27 Test Report
Freeman 27 Documents and Original Brochures
---

We are passionate about building a comprehensive archive of boating information. Can you help us with any missing information or brochures?
Please email any historical information you may know or brochures to info@jonesboatyard.co.uk