---
Sold - Oct 18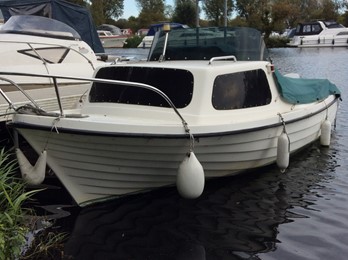 Mazury 485, "Impala"
Boat Length:
15ft (4.58m)
Berths:
2
Year:
Believed 2004
Fuel Type:
Petrol
The Mazury 485 is a very practical day boat with a self drain cockpit and cuddy cabin accommodation

Further Information on MG boats Sheringham Boat Models
MG boats Sheringham Boat Information
Although not a manufacturer MG boats imported a range of sailing boats and motor cruisers that were built in Poland. The sailing boats were the Bez 2, MG spring 25 and the MG 700. The motor boats were the MG Pilothouse 540 and the popular Mazury 485
MG boats Sheringham Boat Models
---

We are passionate about building a comprehensive archive of boating information. Can you help us with any missing information or brochures?
Please email any historical information you may know or brochures to info@jonesboatyard.co.uk – if we use your brochure on the website we will send you a £10 voucher to use in our chandlery!