We currently have no Microplus 501 Explorer boats for sale

Microplus 501 Explorer Model Information and Photo Gallery
---
Microplus 501 Explorer Photo Gallery Archives
Archived Boats (Boats below not for sale)
Microplus 501 Explorer Further Reading
The Microplus 501 is ideal for both inland and coastal use. They have twin moulded seats in the rear of the large cockpit and provide double sleeping accommodation, toilet and galley space in a lockable cabin.
The Explorer has a sink/toilet combination unit added to the large side locker which doubles as a two ring cooker base, ideal for family use.
Useful Links
Microplus 501 Explorer Documents and Original Brochures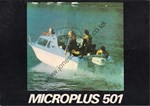 Microplus 501
---

We are passionate about building a comprehensive archive of boating information. Can you help us with any missing information or brochures?
Please email any historical information you may know or brochures to info@jonesboatyard.co.uk