We currently have no Nimbus 27 Familia boats for sale

Nimbus 27 Familia Model Information and Photo Gallery
---
Nimbus 27 Familia Photo Gallery Archives
Archived Boats (Boats below not for sale)
Nimbus 27 Familia Further Reading
These classic semi displacement cruisers with large Volvo inboard diesels capable of planning speeds are the hallmark of these boats. The majority of models are shaft driven, single diesel although outdrive and twin engined versions exist. The Scandinavians enjoy a short cruising season and to counteract their many months of dark, they spend as much time outside in long daylight summer months. This has produced the large centre cockpit concept which often incorporates the galley. The majority of these craft also feature aft cabins. These craft are equally at home at slow river speeds as well as well as sea passages.
Useful Links
Purchase Nimbus Boats Boat Test Reports
Nimbus 27 Familia Documents and Original Brochures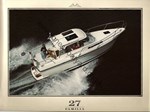 Nimbus Familia 27
---

We are passionate about building a comprehensive archive of boating information. Can you help us with any missing information or brochures?
Please email any historical information you may know or brochures to info@jonesboatyard.co.uk